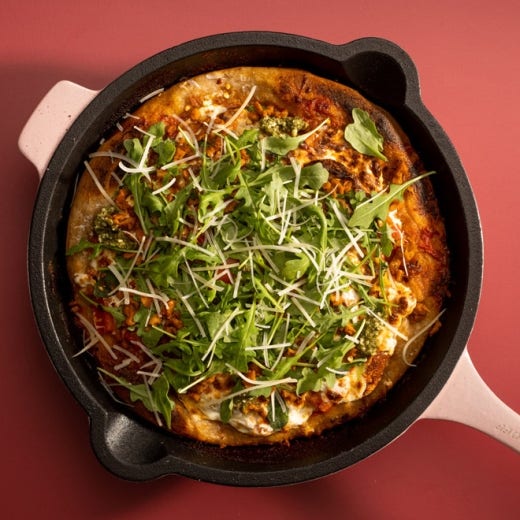 Cast Iron Skillet Italian Sausage Pizza
13.8 oz. can pizza crust
1 Tbsp. olive oil
1/4 tsp. garlic powder
1/2 tsp. oregano
1/3 cup tomato sauce or pizza sauce
2 Tbsp. red onion, diced
1/3 cup artichoke hearts, chopped
4 oz. fresh mozzarella
1/2 cup red bell pepper, diced
1/2 cup arugula
Toppings: pesto, shredded Parmesan, red chili flakes
Directions
Preheat oven to 450°.
Press pizza dough into lightly greased 12-inch cast iron skillet.
Combine olive oil, garlic powder and oregano, and brush onto dough.
Prick dough with a fork to prevent bubbles.
Heat skillet on stove over medium heat for 2 minutes to help cook bottom of crust.
Remove from heat and add tomato sauce or pizza sauce; spread evenly.
Top with cooked Italian sausage crumbles, artichoke hearts, red onion, bell pepper and fresh mozzarella.
Bake for 20–25 minutes, until crust is lightly golden brown and pizza is cooked through.
Top with arugula, pesto, shredded Parmesan and red chili flakes.