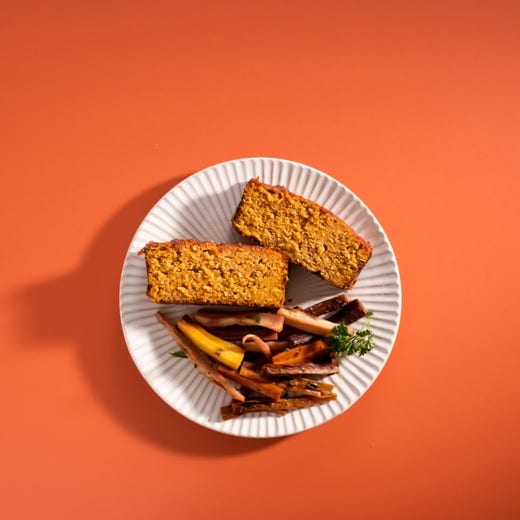 FOR THE LOAF:
3.35 oz. package Plant Boss All-Purpose Plant Crumbles
1 cup hot water
1 Tbsp. neutral oil
3/4 cup panko breadcrumbs
1 Tbsp. reduced-sodium soy sauce
1/3 cup tomato sauce (from 8 oz. can)
1 egg
FOR THE GLAZE:
1/2 cup tomato sauce (rest of 8 oz. can)
2 Tbsp. dark brown sugar
1 tsp. apple cider vinegar
1/2 tsp onion powder
1/2 tsp garlic powder
1/2 tsp salt
Directions
Preheat oven to 375o.
Stir crumbles into hot water and oil. Let sit 5 minutes.
Stir in breadcrumbs, soy sauce, the 1/3 cup tomato sauce and egg until well combined.
Spread mixture into lightly greased 9 x 5″ loaf pan.
Bake for 35 minutes.
Meanwhile, make glaze: Whisk tomato sauce, brown sugar, vinegar, onion powder, garlic powder and salt until well blended.
Pour glaze over meatloaf and bake for an additional 10 minutes.