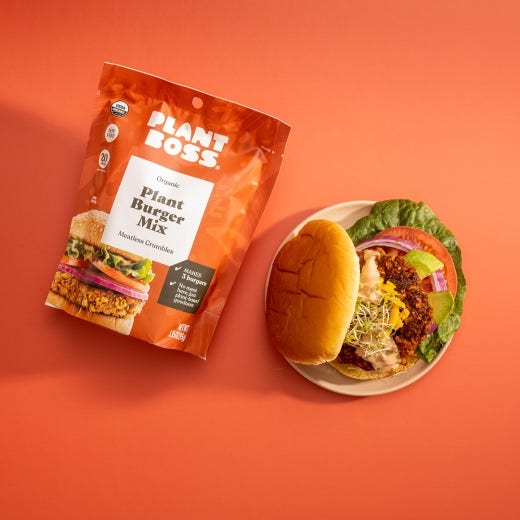 Surfside Burger With Tangy Sauce
3.39 oz. package Plant Boss Burger Mix Crumbles
2 tsp. neutral oil
3/4 cup hot water
1/2 cup mayo
1/4 cup ketchup
2 tsp. apple cider vinegar
2 tsp. sweet pickle juice
1/2 tsp. garlic powder
1/2 tsp. onion powder
1/2 tsp. salt
1/2 tsp. black pepper
Toppings: shredded cheese, lettuce, tomato, sliced avocado, red onion, alfalfa sprouts
Hamburger buns
Directions
Mix crumbles with the oil and water; cover and let soak for 5 minutes.
Combine mayo, ketchup, apple cider vinegar, sweet pickle juice, garlic powder, onion powder, salt and pepper. Cover and refrigerate until needed.
Stir burger mixture, then shape and cook burgers according to package directions.
Serve on hamburger buns with cheese, lettuce, tomato, avocado, red onion, alfalfa sprouts, sliced avocado and sauce.