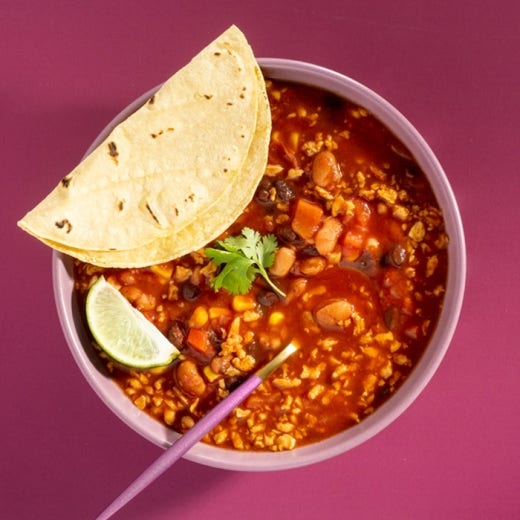 3.35 oz. package Plant Boss Plant Chili Meatless Crumbles
2 Tbsp neutral oil
1/2 yellow onion, diced
2 cloves garlic
1/4 tsp. salt
1/4 tsp. black pepper
1 red bell pepper, diced
14.5 oz. can fire-roasted tomatoes, undrained
15 oz. can black beans, drained and rinsed
15 oz. can can pinto beans, drained and rinsed
1/2 jalapeno, de-seeded and minced (optional) jalapeno, de-seeded and minced (optional)
1 cup vegetable stock
8.75 oz. can corn
15 oz. can tomato sauce
Directions
Soak crumbles in water for 5 minutes.
Sauté onion, garlic, and jalapeno in oil for 3–5 minutes.
Add soaked crumbles and cook 8–10 minutes.
Add bell pepper and cook 5 minutes, until moisture is absorbed.
Add tomatoes, beans, corn, broth and tomato sauce. Bring to a boil.
Reduce to simmer and simmer 25 minutes, partially covered, stirring occasionally.
Be the Boss: For an extra kick, add 1–2 tsp. chili powder in step 5.