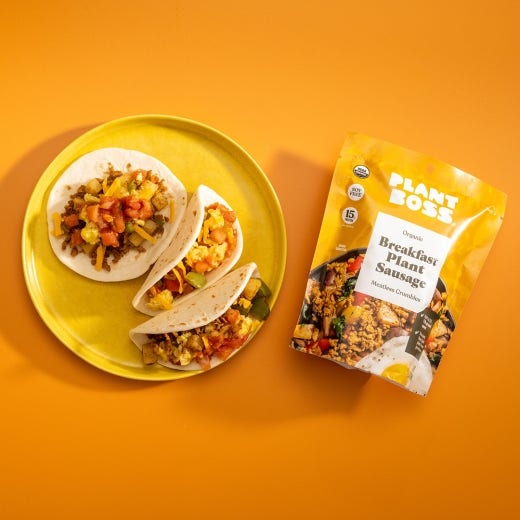 2 Tbsp. neutral oil
1/2 yellow onion, diced
1 russet potato, peeled and diced
3.35 oz. package Plant Boss Breakfast Sausage Crumbles
1 cup hot water
1/2 green bell pepper, diced
1/2 red bell pepper, diced
1/4 tsp. garlic powder
1/2 tsp. salt
1/2 tsp. black pepper
4–6 eggs
Tortillas
Toppings: salsa, shredded cheese, hot sauce
Directions
Heat oil in large skillet.
Sauté onion and potato for 7- 10 minutes, until mostly cooked and partially crispy.
In a separate bowl, combine sausage crumbles and hot water. Cover and let sit 5 minutes.
Meanwhile, in skillet with potatoes and onions, add bell peppers, garlic powder, salt and black pepper; cook 3–4 minutes.
Add hydrated crumbles and cook an additional 3–4 minutes.
Scramble eggs in a separate skillet and add salt and pepper to taste.
Assemble tacos on warmed tortillas: Crumble/vegetable mixture first, then top with scrambled eggs, shredded cheese, salsa and hot sauce.