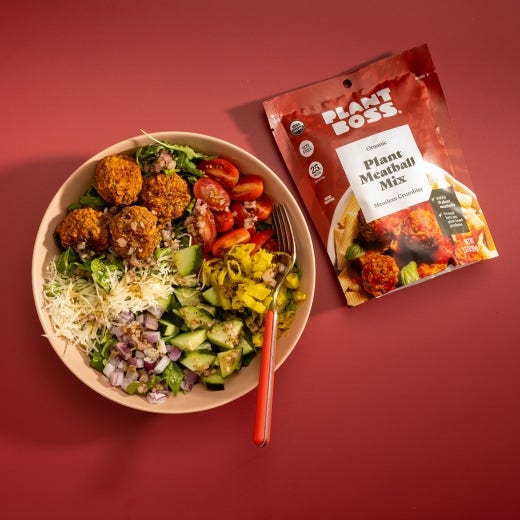 Crisp Chopped Salad With Meatballs
FOR THE MEATBALLS:
3.39 oz. package package Plant Boss Meatball Mix
1 Tbsp. neutral oil
1 cup hot water
2 Tbsp. breadcrumbs
1 tsp. tomato paste
FOR THE DRESSING:
1/2 cup extra-virgin olive oil
2 ½ Tbsp. red wine vinegar
2 Tbsp lemon juice
2 Tbsp. shallot, minced (approx. 1/2 medium shallot)
1 clove garlic, minced
1 Tbsp. Italian seasoning
1/2 tsp. flake salt
1/4 tsp. black pepper
1/8 tsp. red chili flakes (optional)
FOR THE SALAD:
2 heads romaine lettuce, chopped
1 cup arugula
1/2 cup red onion, sliced
1/2 cup pepperoncini, sliced
3/4 cup cucumber, diced
3/4 cup grape tomatoes, cut in half
1/4 cup Parmesan, grated
3/4 cup mozzarella, shredded
Directions
Preheat oven to 400°.
Combine meatball mix, oil, hot water, breadcrumbs and tomato paste. Stir well.
Cover and let sit for 5 minutes.
Scoop and shape into 12 meatballs. Bake on a lined sheet pan for 20 minutes, turning once halfway through.
While meatballs bake, prepare dressing: Combine olive oil, red wine vinegar, lemon juice, shallot, garlic, Italian seasoning, flake salt, pepper and chili flakes (if using). Stir well. Refrigerate until needed.
Assemble salads with romaine, arugula, red onion, pepperoncini, cucumber, grape tomatoes, meatballs, mozzarella and Parmesan. Top with dressing.