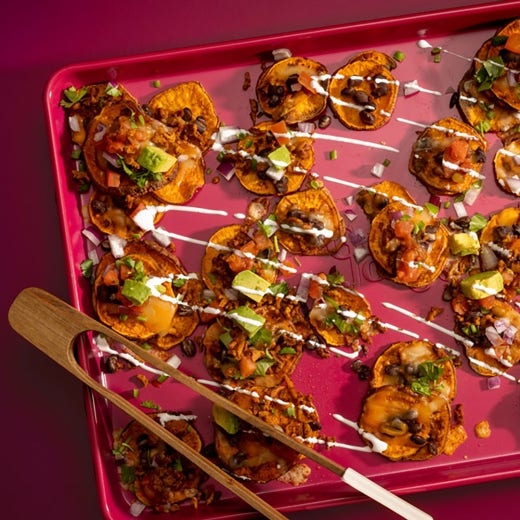 Fiesta Sweet Potato Nachos
2 medium sweet potatoes, sliced 1/8-inch thick
1 Tbsp. neutral oil
1 tsp. chili powder
1/2 tsp. salt
1/2 tsp. black pepper
1 can black beans, drained and rinsed
1 ½ cups shredded cheese
1 Roma tomato, diced
1/4 cup red onion, diced
1/2 serrano pepper (optional), minced, ribs and seeds removed
2 Tbsp. fresh cilantro, chopped
1/2 avocado, diced
1/2 cup salsa
1/4 cup sour cream
Directions
Preheat oven to 400°.
Toss sweet potato slices with oil, chili powder, salt and pepper.
Arrange in a single layer on one or two foil-lined sheet pans.
Bake 20–30 minutes, flip, and bake an additional 20–30 minutes until crispy.
Layer onto sheet pan: one half sweet potato slices, ½ can beans, ½ cooked crumbles, ½ shredded cheese, and repeat once.
Bake 5–7 minutes until cheese melts.
Top with tomato, onion, cilantro, serrano, salsa, avocado and sour cream.