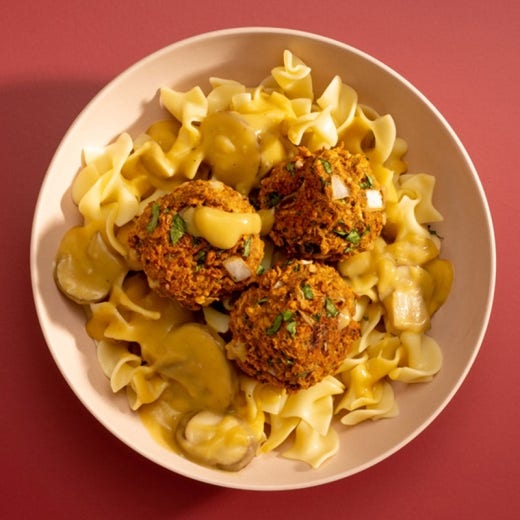 Meatballs With Vegan Mushroom Sauce
FOR THE MEATBALLS:
3.39 oz. package Plant Boss Meatball Mix
1 Tbsp. neutral oil
1 cup hot water
1/4 cup breadcrumbs
1/4 cup onion, minced
1 Tbsp. parsley, minced
1/4 tsp. salt
FOR THE MUSHROOM SAUCE:
2 Tbsp. olive oil
8 oz. baby bella mushrooms, sliced
1/4 tsp. salt
1/4 tsp. black pepper
1/4 cup vegan butter
1/2 cup flour
3 cups vegetable broth
1 cup almond milk
Directions
Preheat oven to 350°.
Combine meatball mix, oil, water, breadcrumbs, onion, parsley and salt. Stir well.
Cover and let sit 5 minutes.
Shape into meatballs by pressing 2 tablespoons meatball mixture together firmly, do not roll.
Bake on lined sheet pan for 25–30 minutes.
To make the sauce, heat olive oil in large skillet, add mushrooms and sauté for 5 minutes.
Add salt, pepper, and vegan butter. When vegan butter is melted, sprinkle flour evenly over skillet and whisk to create a roux.
Add vegetable broth and almond milk; whisk to combine.
Cook over medium heat, stirring, until desired thickness is reached.
Serve meatballs over rice, egg noodles, or mashed potatoes and top with sauce.