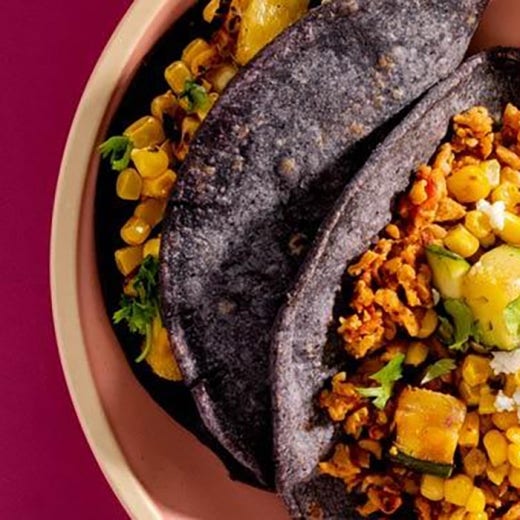 Zucchini & Roasted Corn Tacos
1 can corn, drained
3 Tbsp. neutral oil, divided
1/2 tsp. salt
1 ½ tsp smoked paprika
1/2 onion, diced
2 medium zucchini, diced
3.35 oz. package Plant Boss Pico de Gallo Plant Taco Meatless Crumbles
2 cups cool water
2 tomatoes, diced
Tortillas
Queso fresco, cilantro, lime juice for topping
Directions
Preheat oven to 400o.
Toss corn with 1 Tbsp. oil, salt and smoked paprika. Spread onto a foil-lined baking sheet and roast for 20 minutes.
In large skillet over medium heat, sauté onion in 2 Tbsp. oil for 3–5 minutes.
Add zucchini and cook for 2–3 minutes.
In a separate bowl, stir Pico de Gallo Meatless Crumbles and seasoning into cool water. Let sit for 2–3 minutes.
Add crumbles with water mixture to skillet and cook 10–15 minutes, or until moisture is mostly absorbed, stirring occasionally.
Add tomatoes and cook for 2–3 minutes.
Assemble tacos on warmed tortillas: add Pico de Gallo Meatless Crumble mixture and corn, top with queso fresco, fresh cilantro and a squeeze of lime.